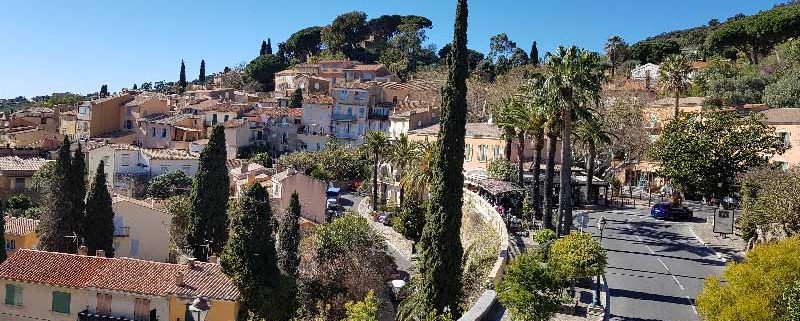 Bormes-les-mimosas is a pearl in a green setting.
Nestled in the hollow of the Massif des Maures, looking towards the Mediterranean, Bormes-les-Mimosas is revealed gently as a pearl in a green setting.Bormes-les-Mimosas is one of the largest towns in the department of Var. With only 8% urbanized, the town is characterized by a protected environment that gives pride to a nature of exception.
Around 400 before J.C, a Ligurian tribe from Italy called Bormani invests the coastline near Cabasson. After long living as a fishing people living from cabotage and salt trading, the Bormani emigrated to the hills in the 9th century to escape the constant attacks of Saracens and many pirates. The village and its ramparts were only built in the 12th century.
Because of its particularly mild climate in winter, Bormes was one of the first towns in France to be classified as a climatic health resort in 1913, at the same time as Hyères. This ranking measure was instituted in 1910 by the government of Raymond Poincaré and highlighted cities that were beginning to open to winter tourism!
The mimosa, popular symbol of the Coast.
Var capital of the mimosa, Bormes becomes Bormes-les-Mimosas in 1968 because of the important flowering of this tree of the acacia family. Moreover, every year since 1920, a corso is organized to celebrate the mimosa. We will celebrate its centenary in 2020.
Classified as one of the most flowery villages in France, Bormes-les-Mimosas extends its territory both at the seaside and in the overhanging lands a few kilometers from the beaches where its old medieval village stands proudly as a Provencal crib.
This is the true village of Provence, typical and authentic with its old houses with pink and ocher tiles, the ramparts and ruins of the castle, its flowery streets winding through a labyrinth of stone walls covered with lush vegetation.
Over the decades, the village has developed its assets by highlighting its historic heritage and its exceptional flowering. Throughout the year, its tradesmen, artists and craftsmen live the village for the delight of visitors. Period architecture, carved porches, facades patinated in the colors of the Midi, arches sheltering flea markets, small workshops or hatters … the medieval village of Bormes is referenced among the most beautiful sites in France, and its attractions through its tourist circuit.
So, if you come on vacation, do not hesitate to visit this charming and typical village of the South Region. And take the opportunity to visit the nearby sites, such as Fort Brégançon, the beaches of Cabasson or Estagnol.
https://terres-dazur.com/wp-content/uploads/2019/03/Bormes-les-mimosas.jpg
389
800
eric
https://terres-dazur.com/wp-content/uploads/2018/03/logo-terre-dazur.png
eric
2019-03-20 15:41:28
2019-03-20 15:41:28
Bormes-les-Mimosas