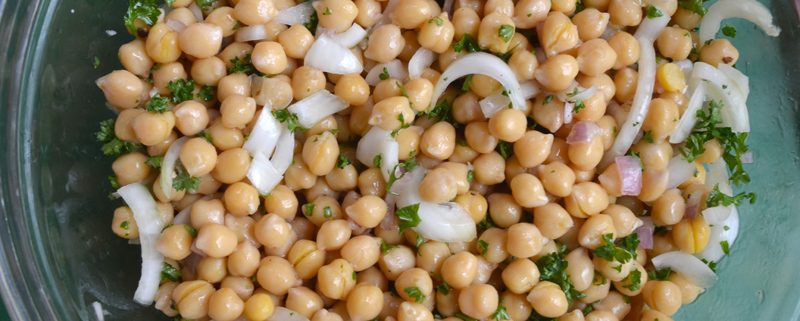 For the religious feast of Easter boughs,
the Sunday before Easter, it was traditional in Provence to eat a chickpea salad.
A custom justified by several explanations: for some, Christ would have crossed a field of chickpeas that day. For others, their consumption avoided being affected by boils or ringworm. Finally, others saw the memory of the arrival in Toulon of a ship full of chickpeas in a moment of famine. Anyway, a chickpea salad is always good!
For 4 people: 200 g raw chickpeas, 1 bouquet garni (laurel, thyme, sage), 1 teaspoon sodium bicarbonate, 3 scallions or new onions, 1 clove of garlic, 10 sprigs of parsley, 3 spoons red wine vinegar, 4 tbsp. olive oil, salt and pepper.
Soak the chickpeas in 1 liter of water overnight. Rinse them, then place them in 3 liters of cold water with the bouquet garni and sodium bicarbonate.
Bring to a boil and cook for 1h to 1h30 (the cooking time varies according to the size of chickpeas). Do not add salt to the cooking water; because it hardens the skin of chickpeas and prevents them from cooking properly. Taste them regularly. You can also opt for pressure cooker cooking: then count for 25 minutes when the valve whispers.
While cooking, prepare the seasoning. Finely chop the onions. Peel the garlic and chop it with the parsley. Mix in a salad bowl salt, pepper, onions, vinegar, olive oil, chopped garlic and parsley. Drain the chickpeas and pour them warm in the salad bowl. Mix and let cool and put 2 hours in the refrigerator before tasting.
You can also garnish your chickpea salad with finely chopped raw celery, slices of bottarga, anchovy fillets, powdered cumin.
https://terres-dazur.com/wp-content/uploads/2019/04/salade-pois-chiches-017.jpg
530
800
eric
https://terres-dazur.com/wp-content/uploads/2018/03/logo-terre-dazur.png
eric
2019-04-04 18:09:22
2019-04-04 18:09:22
Chickpea salad.