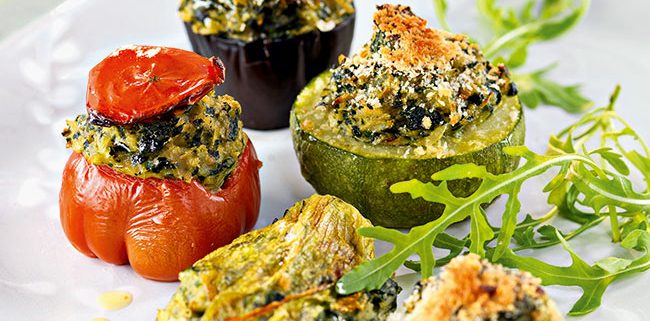 The little stuffed are a typical dish of the country Nice,
usually prepared when the weather comes. It is a traditional recipe of the kitchen of Nice which shines the tables of the families since several generations.
For 6/8 people:
100 g stale bread, 10 cl milk, 2 garlic cloves, 1 bunch parsley, 60 g smoked bacon, 500 g minced meat, thyme, 2 organic eggs, 4 tomatoes, 4 red onions, 4 round zucchini , 2 eggplants, 4 red or green peppers, olive oil, salt and pepper.
Prepare the stuffing. Soak the bread in the milk and wring it out. Peel the garlic, chop it with the parsley. Chop the smoked chest. Mix the ground meat, pork belly, bread, garlic, parsley, thyme and eggs. Pepper.
Preheat the oven to 180 ° (th.6). Cut the hat off tomatoes, dig them with a spoon. Salt the inside and turn them over on a clean cloth to make them water. Peel the onions, cut the hat and dig them with a knife. Chop the removed flesh. Cut the zucchini hat and dig them with a spoon and chop the flesh. Cut the stalks of the eggplants and dig them with a spoon. Chop the flesh. Cut the caps off peppers and remove their seeds and peduncles.
In 1 tablespoon of olive oil, make comeback the pieces of tomatoes, zucchini, onions and eggplant. They must blonden and make their water: count 10 minutes of cooking.
Add the stuffed meat with the stuffing, mix well. Drain the tomatoes and dry well inside. Stuff the vegetables by filling the stuffing well. Place zucchini caps and tomatoes upside down on the vegetables, stalk placed on the stuffing, so that they retain their shape during cooking. Arrange the stuffed vegetables in an ovenproof dish and pour 1 glass of water into the bottom of the dish.
Bake for 1 hour 30 minutes, covering if necessary a sheet of aluminum foil. Let cool 30 minutes in the oven off before serving.
Little stuffed are even better warmed, that's why we always prepare a lot!
https://terres-dazur.com/wp-content/uploads/2018/04/73511_farcis-nicois.jpg
380
650
eric
https://terres-dazur.com/wp-content/uploads/2018/03/logo-terre-dazur.png
eric
2018-04-19 16:57:17
2020-03-23 10:56:53
Little Stuffed Nice