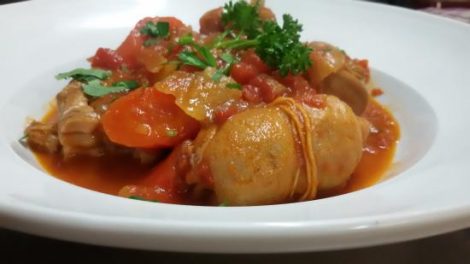 This dish Marseille was invented in Sisteron, in the Hautes-Alpes,
to spoil the delicious lamb traditionally raised in this region. If the rich ate leg of lamb at Easter, the poor had invented this dish based on tripe and low pieces, long preparation but tasty result.
For 4 people: 5 cloves of garlic, 1 bunch of parsley, 300 g of chopped raw pork belly, 300 g of smoked chopped breast, 5 lamb tripe well cleaned, 10 feet of lamb sliced ​​in half and blanched, 2 leeks, 4 carrots, 2 onions, 2 cloves, 600 g fresh tomatoes, 10 cl cognac, 1 bouquet garni, 1 small bird pepper, 50 cl dry white wine, 1.5 l vegetable broth, olive oil, salt and pepper.
Prepare the stuffing. Peel and finely chop garlic with parsley leaves. Add the raw pork belly, 200 g smoked bacon, pepper. Cut the tripe into triangular pieces 8 to 10 cm apart using scissors. Chop the tripe drops and add them to the stuffing.
Using a knife, make an incision of about 2 cm at the top right of each triangle. Place at the bottom of each triangle 2 tbsp. Stuffed coffee, fold the sides to imprison, roll the triangle and close it by passing it through the incision, like a candy dish.
Wash and chop the leeks. Peel the carrots and 1 onion. Slice them. Prick the other onion with the cloves. Seed the tomatoes and cut into pieces. Cut the remaining 100g of diced belly into cubes. Heat the casserole, place your feet on it, pour the cognac and flambé. Once the flames are extinguished, add 2 tbsp. olive oil and brown the leeks, carrots, onion and smoked breast. Add the tomatoes, the bouquet garni, the clove onion, the chilli, the white wine and the vegetable broth. Bring to a boil for 5 minutes, then add the packages to the casserole. Close and let simmer for 5 to 6 hours on very low heat, monitoring the liquid level. If necessary, add a little water during cooking.
Preheat the oven to 210 ° (th.7). Take the skimmers packs and feet. Place them in a baking dish and lightly grill for 30 minutes. Meanwhile, strain the sauce and reduce by one third over medium heat. Serve with steamed potatoes.
https://terres-dazur.com/wp-content/uploads/2018/06/pieds-et-paquets-a-la-470x264.jpeg
264
470
eric
https://terres-dazur.com/wp-content/uploads/2018/03/logo-terre-dazur.png
eric
2018-06-25 10:02:54
2020-03-23 10:56:27
PIEDS PAQUETS