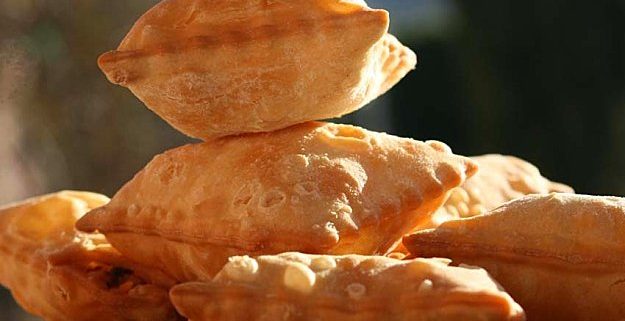 Specialty of the Champsaur valley in the Hautes-Alpes,
these square rissoles were once served at Christmas dinner. They come in the form of a very thin paste pad, fried and stuffed with mashed potatoes and fresh tomme. They are usually eaten as a starter with a green salad with garlic, or as an accompaniment to a platter of charcuterie.
For 4/6 people.
For the dough: 300 g flour, 30 g lard, 3 organic eggs, 2 cl olive oil, ¼ cuil. coffee salt.
For garnish: 500 g potatoes, 2 leek whites, 150 g fresh tome, ½ tsp. coffee salt, nutmeg, butter, pepper.
Mix the flour and salt, dig a well. Melt lard on low heat. Pour it into the well, add the beaten eggs and the olive oil. Knead for 5 minutes until a fairly firm dough. Pack in a cling film and allow time to prepare the filling.
Peel the potatoes and cook them in boiling salted water. In a frying pan, melt the leek whites in a knob of butter until tender. Add the potatoes and crush them with a fork. Add the cheese cut into small cubes, season with nutmeg and pepper, mix well. Cut the dough into 14 portions. Spread it as thin as possible in strips at least 4 cm wide: use a pasta mill, set on the No. 5 notch. Otherwise you can use a rolling pin, but the dough should be about 0.4mm thin.
Place the teaspoons of cheese puree well spaced on a strip. Cover with another strip of dough, press to expel the air and cut in square with a roulette or a sharp knife. Seal the edges of the tourtons with a fork. Fry the tourtons 4 by 4 in the hot oil, 2 minutes on each side. Drain. Keep them warm in a preheated oven at 100 ° (th.3 / 4).
Enjoy them with a green salad and delicatessen.
https://terres-dazur.com/wp-content/uploads/2019/01/TOURTONS.jpg
416
625
eric
https://terres-dazur.com/wp-content/uploads/2018/03/logo-terre-dazur.png
eric
2019-01-31 14:50:16
2019-02-04 14:21:28
Tourtons